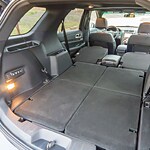 In today's economy, many are considering downsizing their vehicles for fuel-efficiency. In the past, SUVs had a lackluster reputation for fuel-efficiency. Now, that is not the case, and advances in engineering allow many SUVs to compete with fuel-efficient cars. Here are a few other reasons why you should consider an SUV.
Comfortable Fit the Whole Crew
One of the best reasons to consider an SUV is that you have plenty of room for the whole family, including your furry friends. They also have flexible cargo space, with fold-down seats and the ability to customize the space with roof racks and carriers. This makes everyone more comfortable on a long trip.
Safety and Performance
Features such as all-wheel-drive and traction control give SUVs an advantage in inclement weather. In addition, they are higher than a sedan, which gives you a better view of the road. Many SUVs also have some impressive towing capability.
When you are ready to test drive your next SUV stop by Blue Knob Auto Sales and check out our selection.